Something I've always liked about scrapbooking is that you can make one entirely out of found materials.
When I think of scrapbooking, I typically associate it with going to a craft store, picking out sheets of 12″ x 12″ patterned paper from the scrapbooking aisle of a craft store, finding matching stickers and putting it all together into a pre-bound binder, pages with glossy sheet protectors. It's all much too fabricated for me, reminiscent of PTA moms. And a traumatic history where I was elected historian of a terrible "professional honor society" I was in while in university, forced to produce a souless scrapbook so sorority girls could display it while tabling. *Close eyes and rock back and forth*
Anyway… in an attempt to stay far, far, far away from the traditional ideal of scrapbooking is to create one of all found materials or with unique materials, not purchased from the big box craft store. One idea I've come up is turning a paper bag into a scrapbook. A paper bag is something I usually have laying around, usually from a recent trip to the pharmacy.
I've made so many of these little books that now I have a small shelf of these books, lined up next to each other. Finishing one and adding it to the shelf feels good. It's as satisfying as putting all your hardcover Harry Potter books in order on a shelf, and seeing how uniformly neat they look.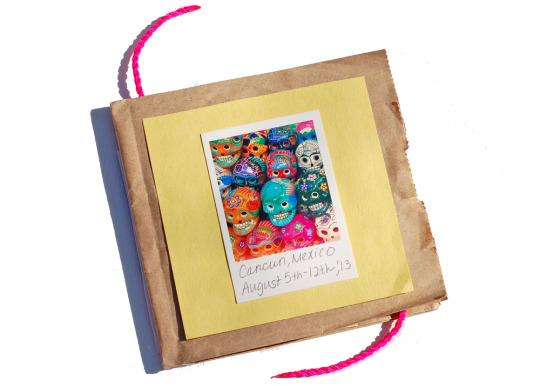 A small book made from a paper bag to document a recent trip I took with my family to Cancun, Mexico. We got to go to Chichen Itza and Cenote Ik Kil. It was so magical. Traveling in Mexico always makes me wish I paid more attention in Spanish class in middle school.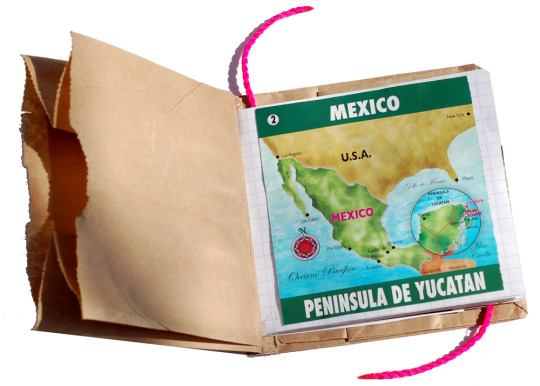 The pages are torn out of another small notebook. This map was cut from a mass-printed map that all tourists get as soon as they set foot in Mexico.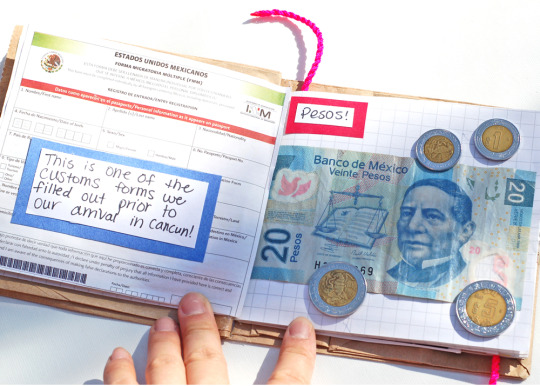 Money always makes the best souvenir to include in scrapbooks. It's something I've already usually acquired on a trip. A customs form is always given at the airplane too. I love seeing official documents in different languages. This one is in Spanish.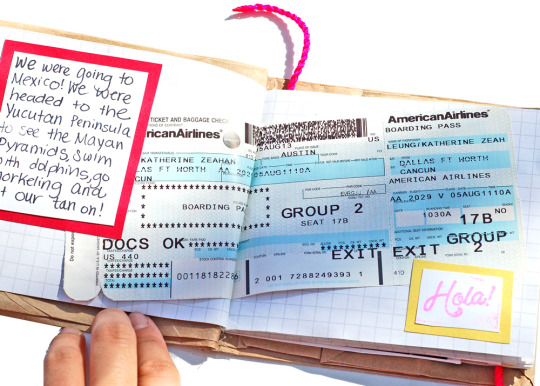 Stamps made into stickers with a colored frame. All text "framed" by construction paper.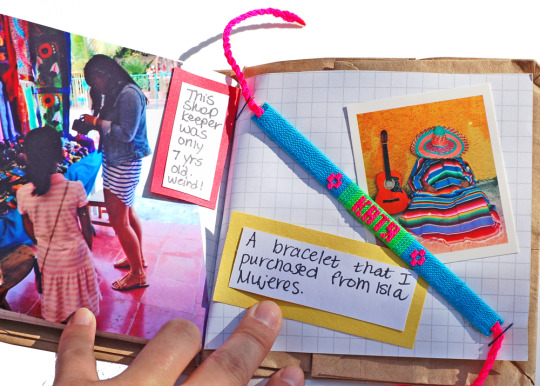 I couldn't just leave Mexico or any island place without a cheesy handmade bracelet. The small photos are either from a Mexico travel magazine I found at home, or printed from photos taken on my phone.