One of the best parts of traveling, for me, at least, is all the paper memorabilia that I encounter on the way to the destination. A business card written in French for a French company and a flyer for a French cafe actually in France are things so peculiar and special, especially if it's a faraway land. It feels foreign in my hands. The words, and even the paper that it's printed on feels different. But it doesn't even have to be as far away as France for it to have it's own explainable, quaint charm. The typeface, even the logos and the borders of movie ticket stubs from a theater that is not your local theater are enticing in its own way. Whatever piece of paper it is, its almost always more remarkable than the same of its kind back at home.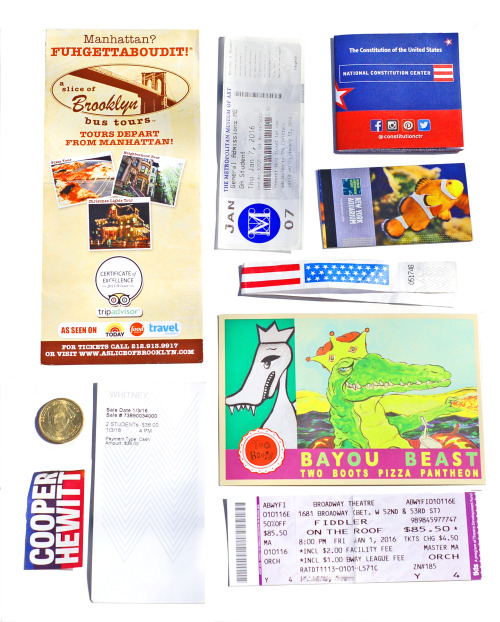 Scraps collected during a three week long trip to New York. As a Native Texan, New York might as well be as far away and foreign as France.
Collecting scraps along the way is another form of souvenir collecting. Buying souvenirs for friends and family members was always something that came natural for me, but buying a gift for myself to remember that trip while I am on that trip is weird, too self-involved. Choosing that one perfect item to carry back home seems too calculated. Souvenirs, like memories, and like memory keeping, should be acquired naturally.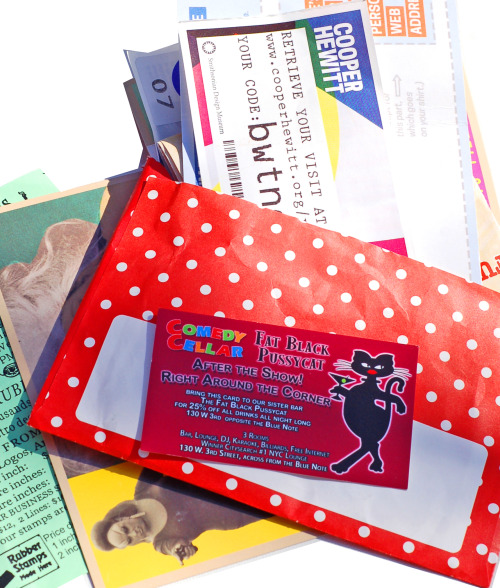 I save all my little pieces of paper in an envelope until I get home. Or I tuck it into a notebook. This is a business card for a comedy show, a rubber stamp shop, and a Cajun-themed pizza place in New York City.
We acquire scraps so rapidly that in our hometowns, it becomes an annoyance. Your pocket fills up with gas station receipts, concert stubs, flyers handed out at a busy walkway. You get a sticker for attending an event at a gallery's latest exhibit. You get a wristband for going to concert in a bar. But in a new town, those things can be collected for later.