Vietnam was the cheapest ticket I could get out of Korea. It was also a place I wasn't familiar with, so I was interested to visit. I should have done more research or possibly learned Vietnamese because it wasn't very accessible for a budget traveler at all.
The second I arrived, there were also masses of foreigners that didn't "do the right thing". Because of the confusing bureaucratic mess of how visas are administered, I think this kind of confusion happens at every arriving international flight.
You need to have a printed Vietnamese visa already in your passport (I had that, check). You need to have EXACTLY x amount of Vietnamese money in CASH to pay immigration. Every website that helps you secure a visa has altering information, for example some say Euros or foreign currency equivalent is ok. How can people even get Vietnamese currency before arriving in the country? Anyway, since most arrive without the exact dollar amount of currency, or over the amount (because it is weirdly specific), the armed guards take foreigners one by one to an ATM THAT IS BROKEN on the entrance of the airport. You go one-by-one and they walk so bureaucratically (yes I invented that word) slow to get cash out of the machine. Again, as you know ATMs spit out large bills. So there's really no way around it. It's not a good feeling to start off a trip with a four hour hold-up trying to leave the airport. Don't get me started on taxis though.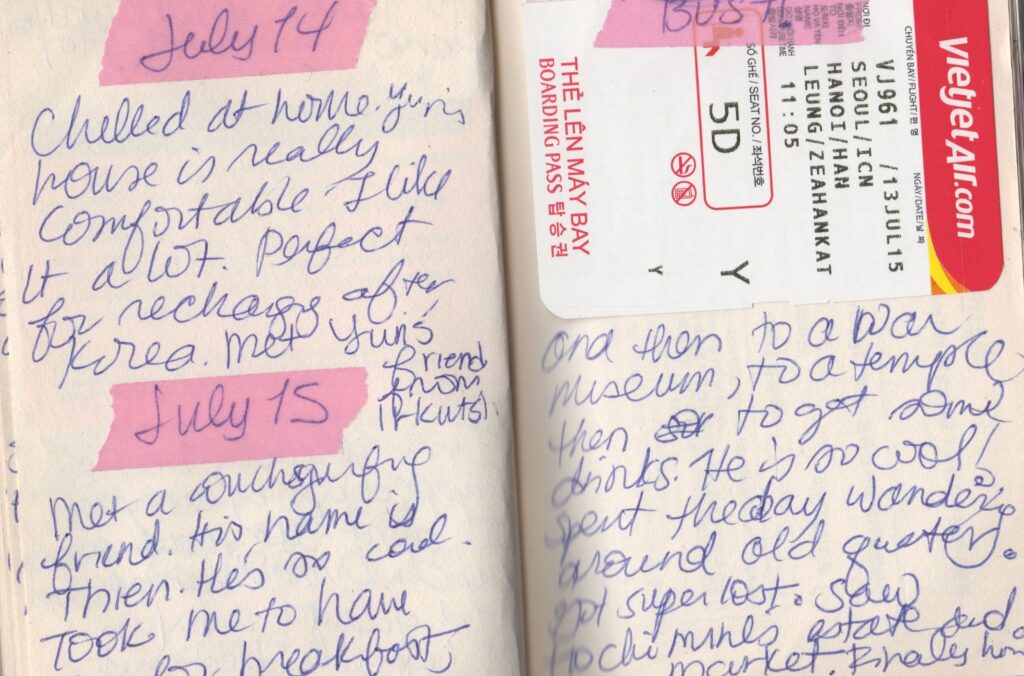 I stayed with my friend in Hanoi. He had a motorcycle and cush apartment. Even though he had to work a lot, I was able to recuperate from sleepless nights in hostels. I hit up couchsurfers to show me around Hanoi and got to see a lot of cool things and eat interesting food. Although there is a lot of Vietnamese food in the US, I'm not sure if I can find the same things, or even remember their names.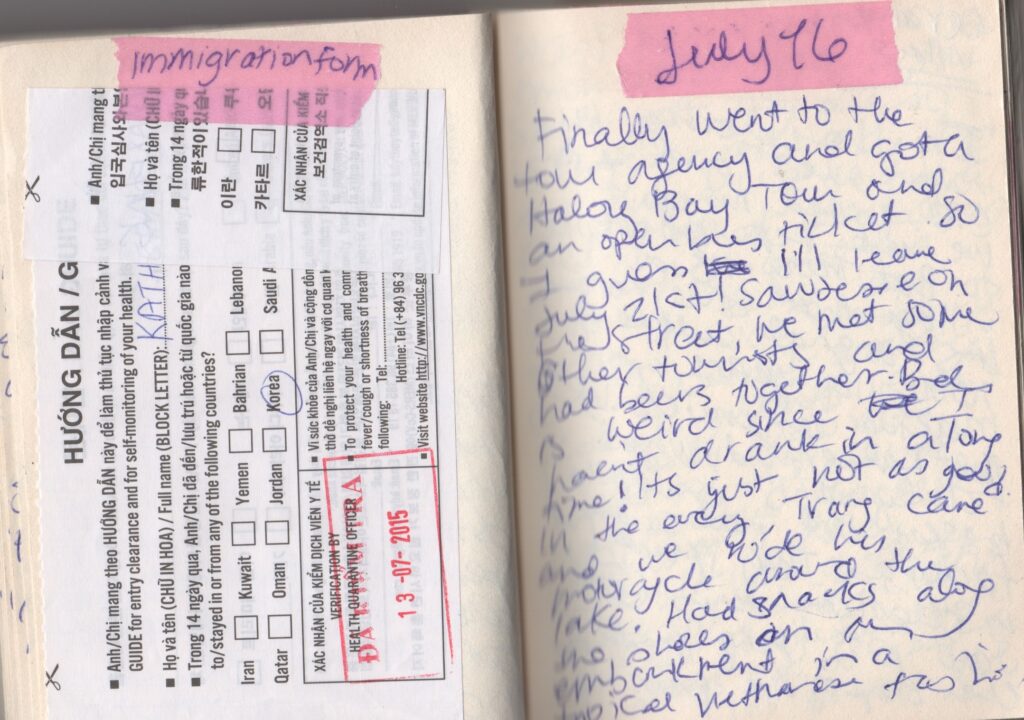 I found a tour to Ha Long Bay. I was on a small, beautiful ship, with about ten other people. It a random assortment of people. I fit right in as being another weirdo. We got to know each other very well. It felt like summer camp or a the beginning of a new program.
Ha Long Bay was absolutely breathtaking. The water is green and the rock formations are amazing. It was so much fun. It's crazy to know that I've been to the place on most screensavers and desktop backgrounds. It was incredible.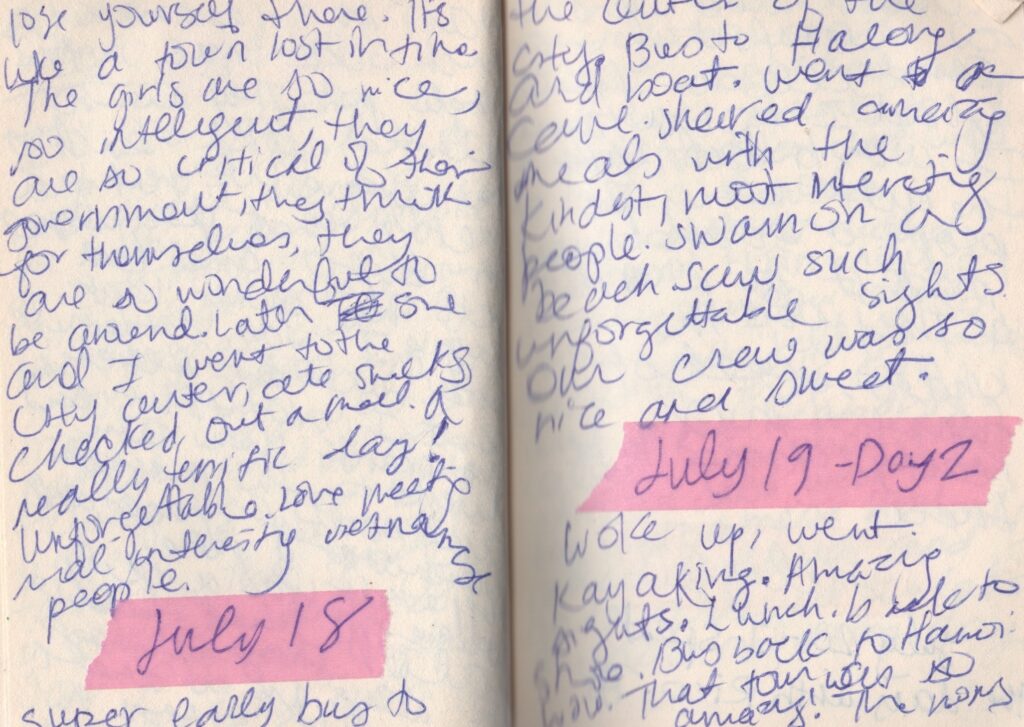 Decided to leave Hanoi and get on a sleeper bus to Hue and Hoi An. Hue low-key sucked. I got robbed there, and it's my least favorite travel story. So I'll just leave it at that.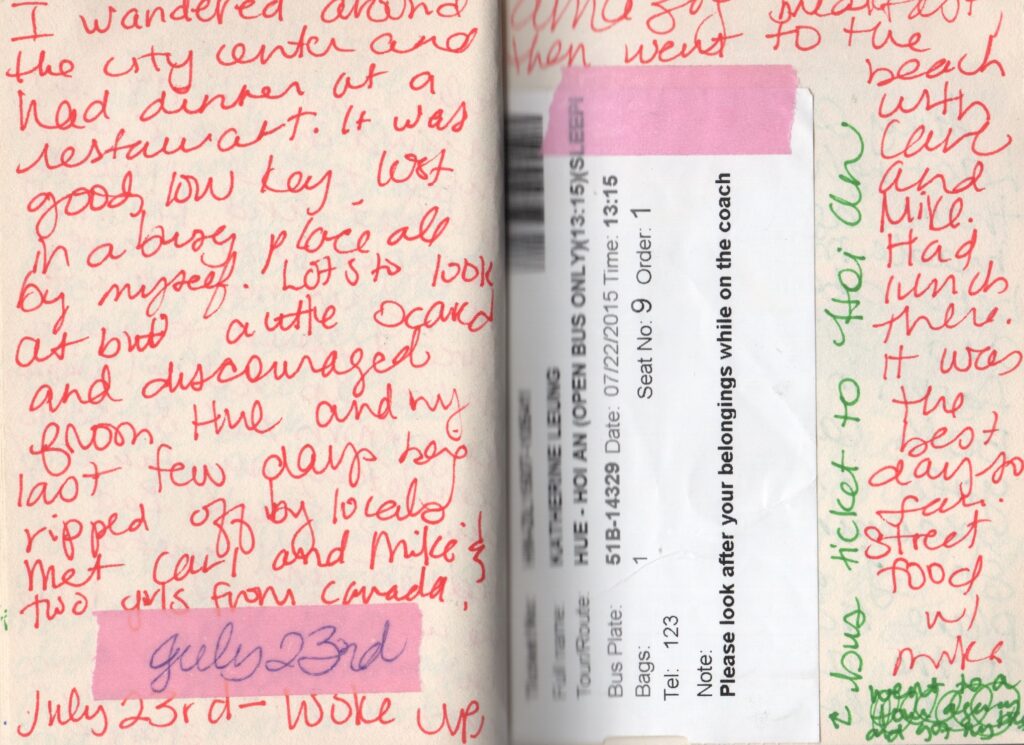 Hoi An was beautiful. I spent days just asleep on the beach. I stayed at a beautiful hotel with a single floor converted into a hostel. Their breakfast spread was incredible. I spent my days riding bikes with people I had met. The "downtown" area is really nice. Is there anything better than satayed skewers?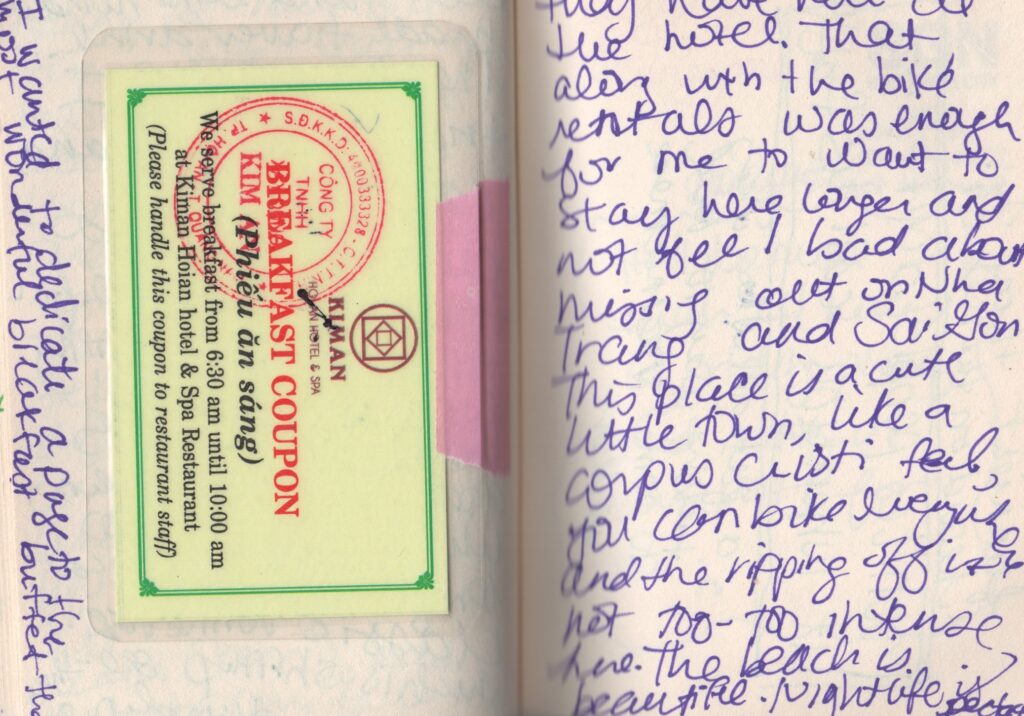 The bus route ended in Ho Chi Minh but by then I was tired of Vietnam. I was exhausted by the constant ripping off I had experienced in every part of Vietnam and decided I was better off just going inwards and turning off my brain a little. I understand that they have a much more dog-eat-dog life than I do, and that it is so much harder to hustle there and make a living. I was just tired of it by the end of three weeks in Vietnam.