Richmond is a cute town that some friends have told me that I should move to. Too bad, because we love where we live already! I've been there a few times, and each time has been really magical. The first time I really got to hang out here was with my friend Nicole, who we met online! She was also new to Vermont. One sticky summer night we headed to the Bolton Pot Holes, an icy cold swimming hole.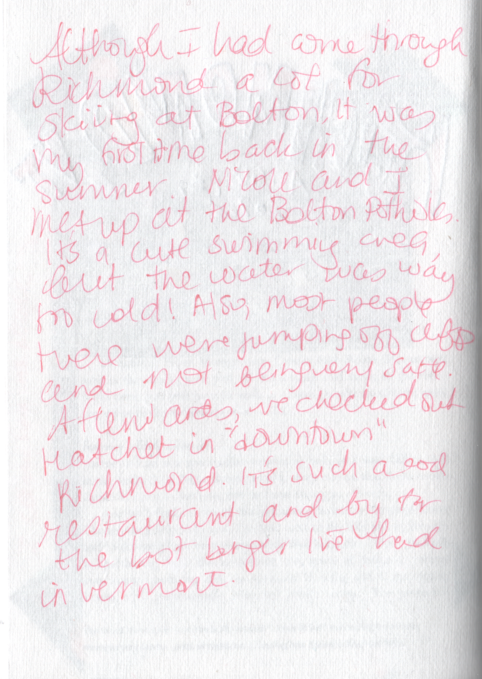 We shared drinks on a blanket and braved letting the water come past our knees because of how cold it is. The melted snow water from the mountain drips down in waterfalls all spring and the remaining water pools at the bottom, making it stupid cold.
That night, we had dinner at a cool Asian fusion joint in town and it's probably to this day, one of the best burgers I've ever had in Vermont.
Another good friend has invited me to Richmond a few times later in the summer. It's a small town that really like-minded people have flocked to. We spent a fun summer night here, playing music (well, she was playing music, I was enjoying it). We reheated bulk carnitas and I busted out mango-juice vodkas at the only pace acceptable for three ladies on a Friday night. Two vodkas in, I rode my first electric bike here. A mutual friend rolled it out of her garage and let us ride down the the street in it.
Finally, I was there last night, where I said goodbye to that friend. We had spent many summer mornings swimming in the reservoir, and prior to Vermont she had lived in many other states, from the backwoods of Alaska with only an outhouse for plumbing, to where I met her, in a funky loft above the town's only gas station. I don't know why, but I was emotional when I found out she was leaving, and emotional the entire time during her going away party. I know friendships are fleeting, after all, haven't I left so many places? But it was time for somebody else to leave and that was really sad. We ate pizza made from the house-turned-restaurant next door, and sat around another friend's living room, at a gathering where there were more dogs than people. The town's veterinarian was there. A mix of old and young people. I felt lucky to be a part of that room at that time, and strangely empty when my friend and I hugged at the door when it was time to leave.