This winter, I learned to ski. And not only that – I grabbed skiing by the horns. Or the poles.
I took three lessons at Bolton Valley, a mountain about 40 minutes from my house. I heard about it from just about everyone living here that was the preferred mountain for locals. I got to know the trails very well and went over ten times this winter season.
I only had to take a few small breaks, when I injured my toe and had to learn a thing or two about ski boots. They are very painful and my barefoot-leaning feet do not do well in them. I had to bring them to the alpine shop many times to get them fixed up. Not only that, with huge calves, they cut up my circulation regardless of the temperature and conditions outside. So they are still far from perfect. I've had to learn a lot more about the culture of skiing than I had to learn about techniques and strategies, in my opinion.
Still. I had a great winter. Reminiscing on how wonderful it was to learn and feel comfortable on the mountain is a real treat!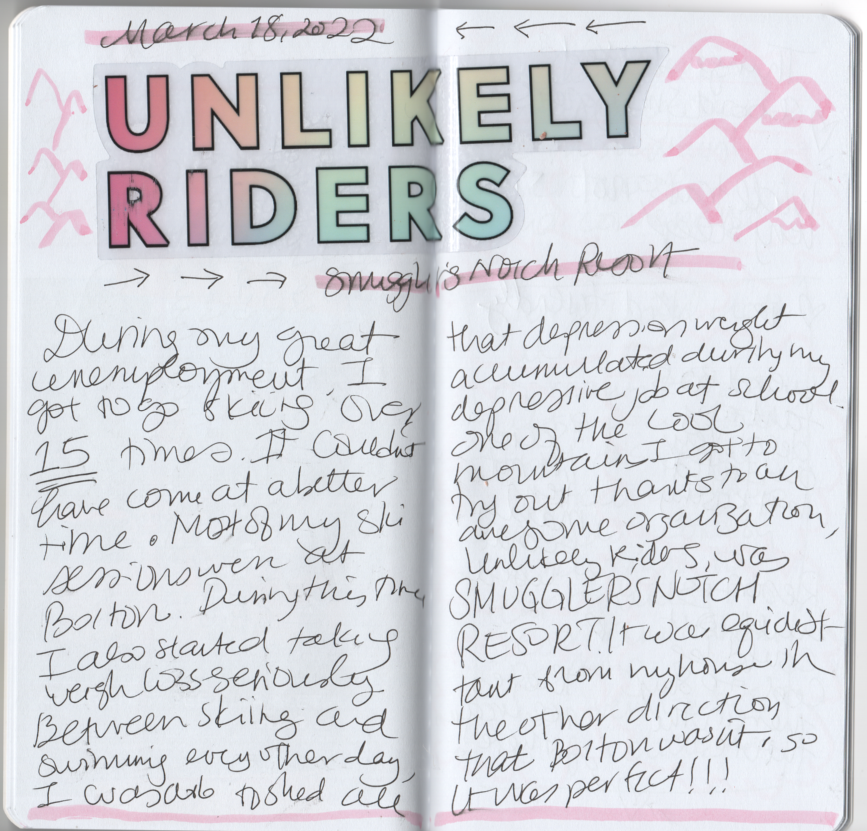 Near the end of the season I got a hold of a few free passes and jumped at the chance to visit a mountain I had never been on. I really wanted to try Smuggler's Notch. It is the mountain that's closest to home, that many locals go. I got to go to during a weekday off season, when it wasn't snowing anymore. However, it was still a great time.
Smuggler's Notch was different from my "home" mountain for many reasons.
First of all, Bolton is 40 minutes South whereas Smuggler's Notch is 40 minutes north. So the alpine and climate is a bit different. It's more conifers, spruces, and firs up there, so it feels more winter-y, even on a sunny day. There are definitely more log-cabins along the road as you drive up.
Secondly, Smuggler's Notch is more family friendly. There's more of a walking area in the parking lot and lodge to hang out inside and outside. There's more signage and there's a lot of decorations reminiscent of a kid's theme park in the 80's – like elves, fairies, and random trippy animals painted on the side of lifts and walls. At any given time, there are more group lessons going on. There's childcare for skiiers. And there's a Magic Carpet lift. And lastly, there's playful little nooks and playscapes for really young children to try. At Bolton, there is almost no kids stuff, like at all.
Third of all, the paths at Smuggler's Notch are much much more wide. So as a beginner, I'm less afraid of falling off the side. Even the manmade snow was slushy, and not as icy as it is at Bolton.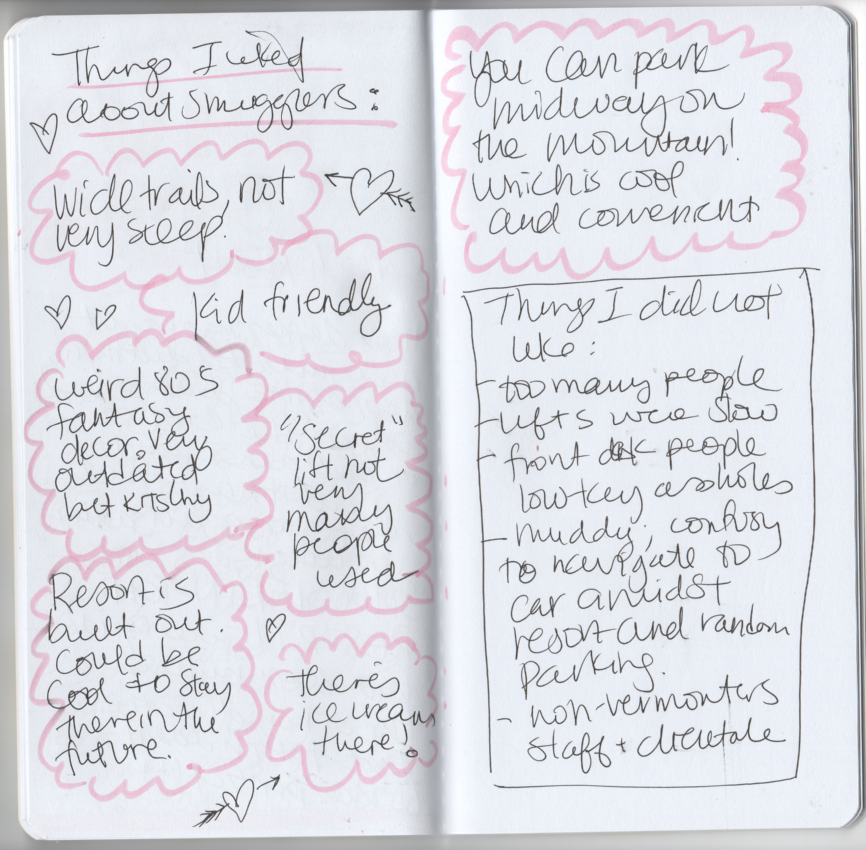 After my fantastic afternoon at Smuggler's Notch – there's a few things I walk away with. First, that I really enjoy my time alone in the mountains. I might never have this period of uncertainty during the winter again, so I cherish being about to ski as much as I did in the time that I did. I also am considering a season pass here next year, as the trails were much more at my level. They were less steep and more wide. I'd have to try it out a few more times with Casey and see what he thinks.